A good Instagram feed is something most people aim for. Maintaining an aesthetically pleasing feed is not an easy task. Choosing the right poses and angles and then choosing the right filter to go with it- it's one hell of a work. That's why we have brought you this guide on Instagram post size.
After all this work, Instagram ruining the quality of your posts is a major mood spoiler. If your picture or video is not of the aspect ratio, Instagram automatically resizes it according to its ideal ratio which ruins the quality big time.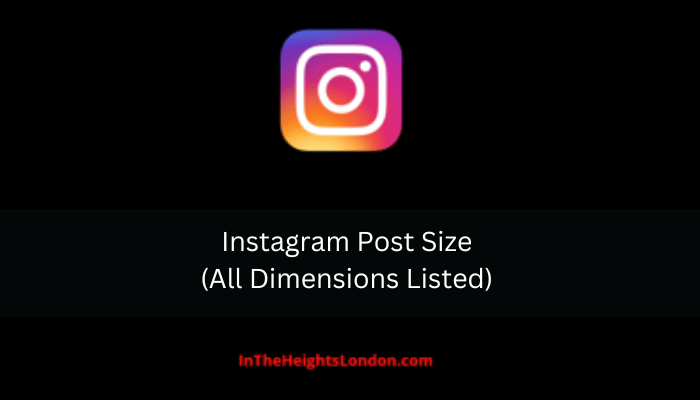 So, how can you avoid this? What you gotta do is make sure your picture fits the ideal ratio of 16:9. We'll explain this in detail in a little bit. 
Say bye-bye to blurry and fuzzy Instagram posts from today as we're going to tell you everything that you need to know about how to keep your posts in top-notch quality. 
Let's get started. 
Instagram Post Size (For Different Sizes)
So here some dimensions for a different type of posts:
Instagram Feed Posts
Instagram Feed Posts includes pictures & videos both:
Pictures
Before 2015, Instagram only lets you post square photos. Then many users who wanted to post landscape and portrait pictures sent requests for an update and thankfully, Instagram heard them. Now you can post square, horizontal and vertical photos on the app. 
Here are the dimensions for each kind of picture.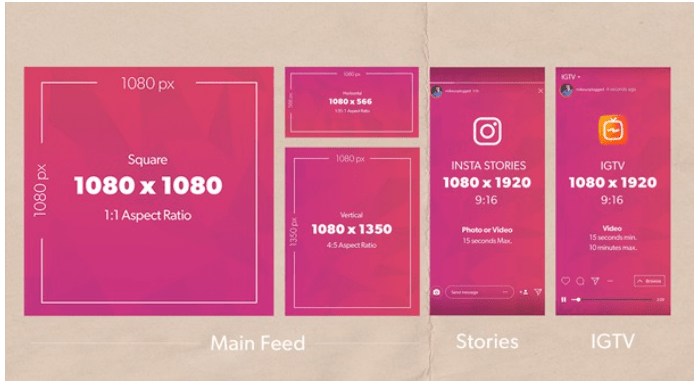 Square: 1080x1080 pixels (1:1 ratio)
If your image resolution is more or less than the ideal ratio then Instagram will compress or enlarge it, lowering its quality. So, it's always a better idea to make your photos 1080×1080 in size. That way, if Instagram compresses the quality, it'll still be of high quality. 
Landscape: 1080×1080 pixels (1.91:1 ratio)
To avoid white borders and quality degradation in your landscape pictures, always follow the aspect ratio. You can upload photos of up to 16:9 ratio and although that will not ruin its quality, Instagram will add a border to your picture. 
Portrait: 1080×1350 pixels (4:5 ratio)
If you want to avoid your pictures getting cropped by Instagram, follow the aspect ratio. You don't wanna leave anything out of your gorgeous portraits!
Videos
Instagram videos pretty much follow the same dimensions as mentioned for the photos. 
Square: 1080×1080 pixels (1:1 ratio)
Same as the pictures, square videos need to be of the ratio 1:1 to avoid cropping and quality degradation.
Landscape: 1080×608 pixels (1.91:1 ratio)
Landscape videos can be anywhere between the ratio 1.91:1 and 16:9 but make sure the minimum number of pixels is 600×315.
Portrait: 1080×1350 pixels (4:5 ratio)
Instagram Stories
Instagram stories are the best way to keep your followers engaged. Therefore, maintaining a good Instagram story streak is crucial, especially if you're a social media influencer or aspire to be one. 
Nobody likes watching stories where the picture quality is bad. They will just skip your story and watch the next one. It takes 2 seconds to lose a follower due to bad content. Posting high-quality photos and videos on your story are key to keep your followers hooked. 
The perfect Instagram story dimensions are 1080×1920 pixels with a ratio of 9:16. This means, make sure your picture or video width is 1080 and 1920 in height. If not, then Instagram will either crop your story or make it fuzzy. 
One easy way to make sure your story is the right ratio is by taking photos and videos with your phone camera's portrait mode. That way, you wouldn't need to download a whole other app for resizing your content.
Instagram Story Highlights 
Instagram story highlights are an easy way to preserve your memories on your Instagram account for your followers to see. While normal stories expire 24 hours after posting, highlights stay until you choose to remove them. 
Since these highlights are just normal stories that you post on your account, the dimensions remain the same (1080px by 1080px). 
Instagram Reels
Instagram reels are short videos that are viewed vertically in the same way as Instagram stories. They too follow the same dimensions as Instagram stories.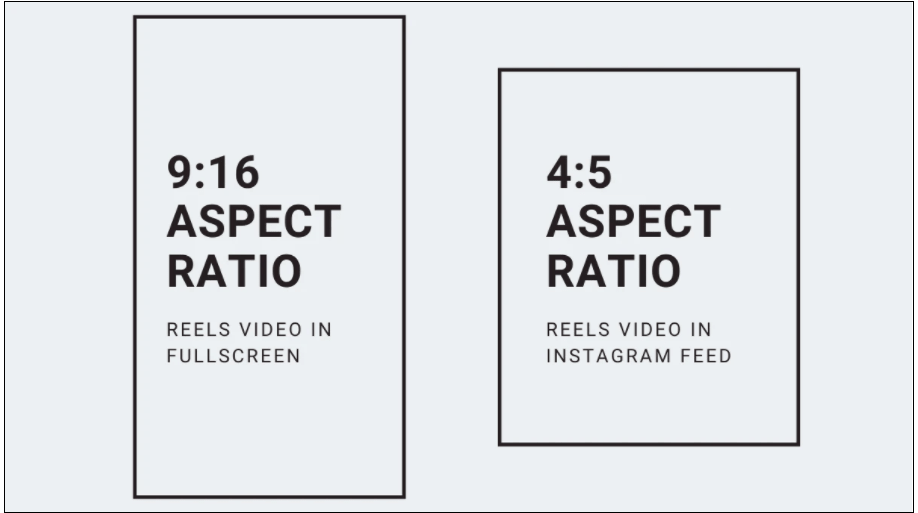 These dimensions are perfect for your followers to watch your latest dancing challenge your quick recipe videos. However, when reels are shown in your feed, they are cropped by Instagram. 15% of the top and the bottom of your reel is cropped, and the entire reel can only be viewed when you click on it.
Instagram IGTV
Instagram IGTVs are the new trend. Previously, people could upload 1-minute videos and 15-30 seconds long reels. But then Instagram introduced IGTV where you can upload videos up to a length of 15 minutes using mobile and 60 minutes using a computer. 
IGTVs can also be posted in vertical and horizontal forms. The perfect dimensions for IGTV are as follows.
Vertical: 1080×1920 (9:16 ratio)
The vertical dimensions are usually recommended for IGTVs because it is easier for your followers to get a better view. The video covers the entire screen and thus, captures more attention. 
Horizontal: 1920×1080 (16:9 ratio)
In the horizontal form, your video won't be covering the entire screen and will have borders on both ends. Your video will appear rectangular. 
Cover Photo: 420×654 (1:1.55 ratio)
You can choose your cover photo from your IGTV video or select one from your gallery. 
Instagram Live
Since you cannot manually do anything about Instagram live's dimensions, you don't need to worry about it. When you start your live stream, your video is already within the perfect dimension and ratio. 
The aspect ratio of Instagram Live is 9:16.
Instagram Profile Picture
Your profile picture is what most people notice first about your account. If you have an eye-catching profile picture, then only people take interest in following you and exploring your account. Thus, quality maintenance is important.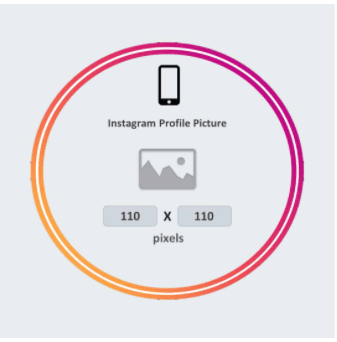 Instagram recommends a minimum dimension of 110×110 pixels, however, the ideal resolution is 180×180 pixels for a high-quality profile image. 
Do dimensions matter?
It's the 21st century and people are impatient. They get bored very easily. You can give your followers good content all year round, but the minute your content quality drops, you start losing followers. Unfair, but that's just how the world works now.
Dimensions equal quality. Follow the dimensions recommended by Instagram and you'll have high-quality content on your feed. Otherwise, your photos appear as if taken from a trashy camera. Doesn't sound like much of an aesthetic, does it?
So yes, dimensions matter big time. 
On the other hand, if you're just a normal user who doesn't care about their followers and is only on Instagram to watch other people's content, then you're free to post whatever you like. 
Frequently Asked Questions
Can I edit my Instagram post after I've uploaded it?
No. Instagram has not yet introduced an edit button for already uploaded posted content, therefore you can't edit your post after uploading it.
Are square images more preferred than landscape and portrait ones?
Most people usually post square images. However, a landscape or a portrait photo covers more area on the screen and thus captures more attention.
My IGTV video is horizontal and doesn't cover the entire screen. What do I do?
If your recorded video is horizontal and you want it to cover the entire screen when your followers watch your IGTV, one thing you can do is rotate your video to 90 degrees before you post it, so it appears vertical. 
You May Also Like:
Conclusion
So you see, on Instagram, size does matter! But only if you care enough about your growth on social media. Otherwise, you can be tension-free. 
We've covered all the important details about Instagram dimensions in our article and we hope that now that you'll be able to optimize your Instagram photos and videos with ease. 
Let us know in the comments sections if you encountered any issues.