If you've landed on this page, then you must be aware of how addictive Reddits are! In this article, we have shortlisted some of the most entertaining subreddits of 2023. 
What we have done is compiled subreddits containing different topics based on the quality, fun, and some "what the heck did I just read?"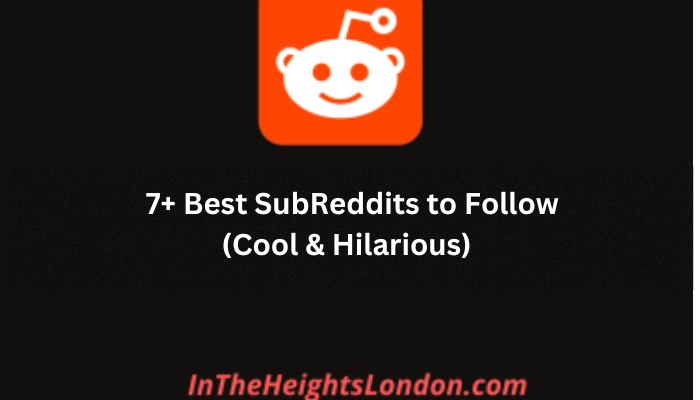 But if you're running short on time and cannot read the entire article, then simply go through the following bullet points. With that in mind, let's begin with some interesting sub-points:-
Subreddits for (dark) memes
Following are the top two subreddits to follow if you like dark humor!
Subreddits for self-improvement
If you are all about self-improvement and looking for some motivation then you should check out the following subreddits:-
Subreddits For Random Sheez
Unlike the above-mentioned sub-points, if you're looking for something light and super chill then you must check out the following subreddits:-
r/music
r/casualconversation
r/memeeconomy
r/mildlyinteresting
r/insanepeoplefacebook
7+ Best Subreddits of 2023 (The Handpicked List)
So here is the list of a few Subreddits for you to try:

Despite being roasted in daily lives by either parent, best friends, or even that 14-year-old coward who does nothing but bully strangers by hiding behind the screen.
Regardless, Roast Me is one of the most entertaining places, as here people willingly let users roast them.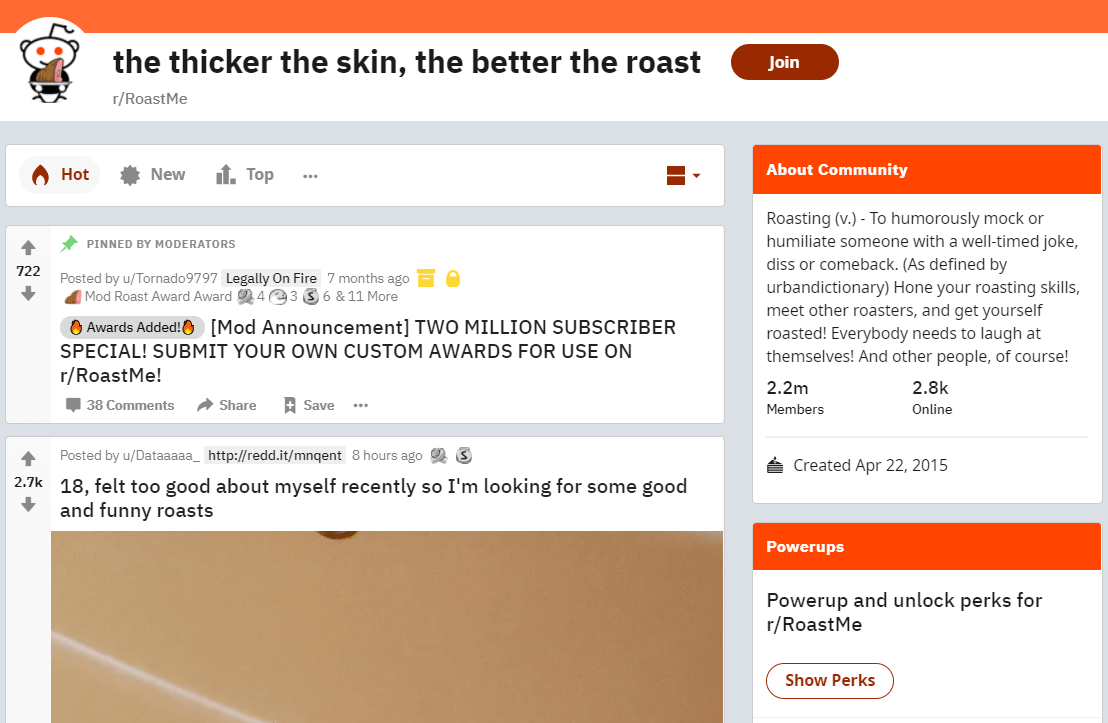 Some roasts are funny while some are heart-wrenching, but the silver lining is somewhere the roasts come from the place of truth and that gives scope for improvement on your part.
As the name suggests, this subreddit features stories regarding unresolved mysteries.
And as much as the Redditors have spent time investigating these events, whatever you may read is not news broadcast!
These are thrilling Global stories with no resolvement. That also means you can come up with your own AU if you're taking any writing inspiration.

"Ask me anything" is known to be one of the most popular subreddits.
There are people with strange experiences and sometimes jobs even, and what they do is give the users liberty to ask them anything and answer these questions in return.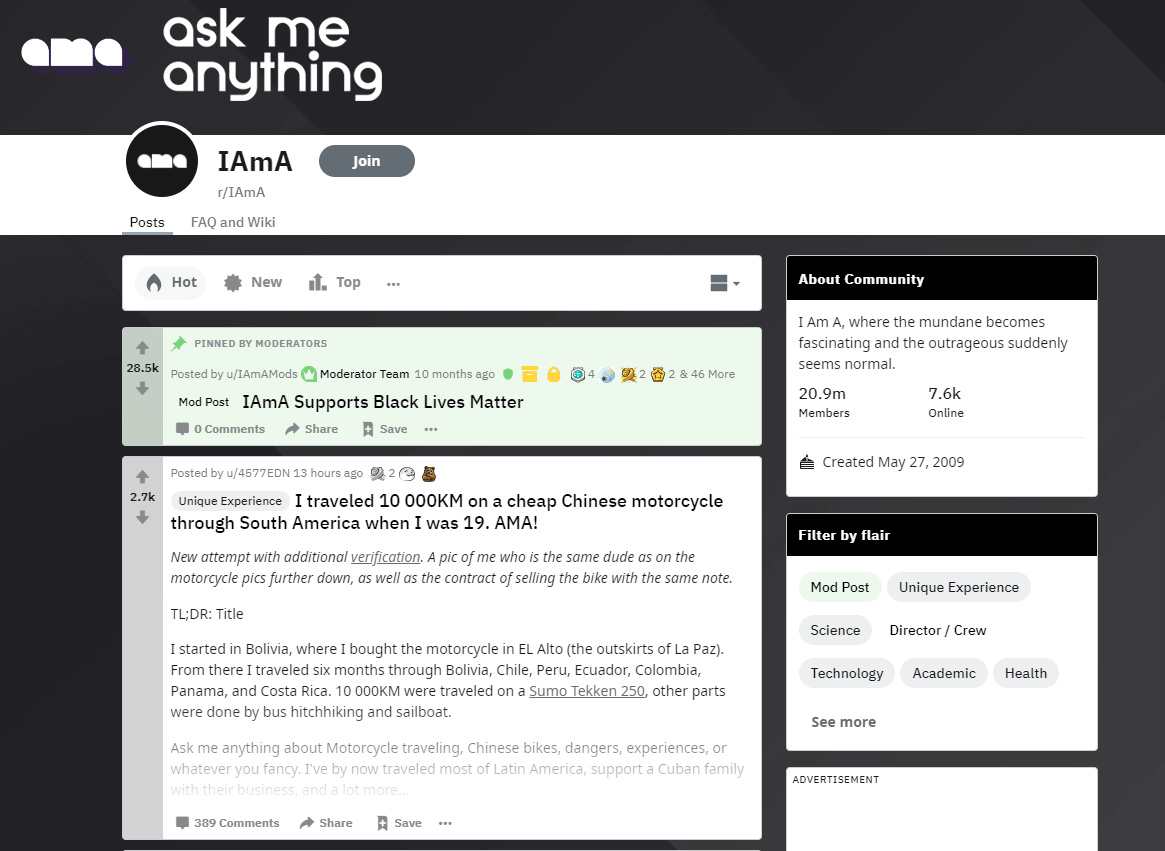 Another reason why this subreddit is in demand is due to Celebrity AMAs.

Best subreddit for insomniacs!
This subreddit is full of story prompts, and being a budding writer it would be a great opportunity to begin here. Everybody involved in the story plays the character, and the commentators only reply from the character's perspective.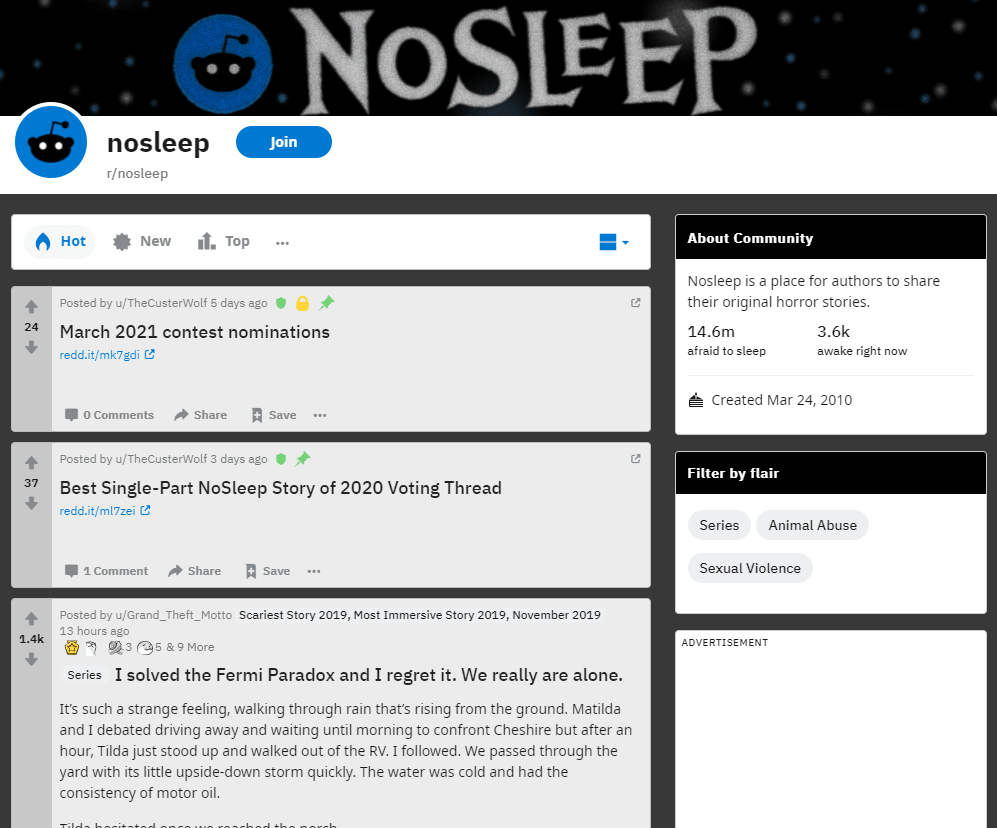 No Sleep also contains audiobooks to help you sleep.
As the name suggests, this subreddit is full of facts, pictures, and stories that would most definitely blow your mind!
Although the community is rather short the content is worthwhile.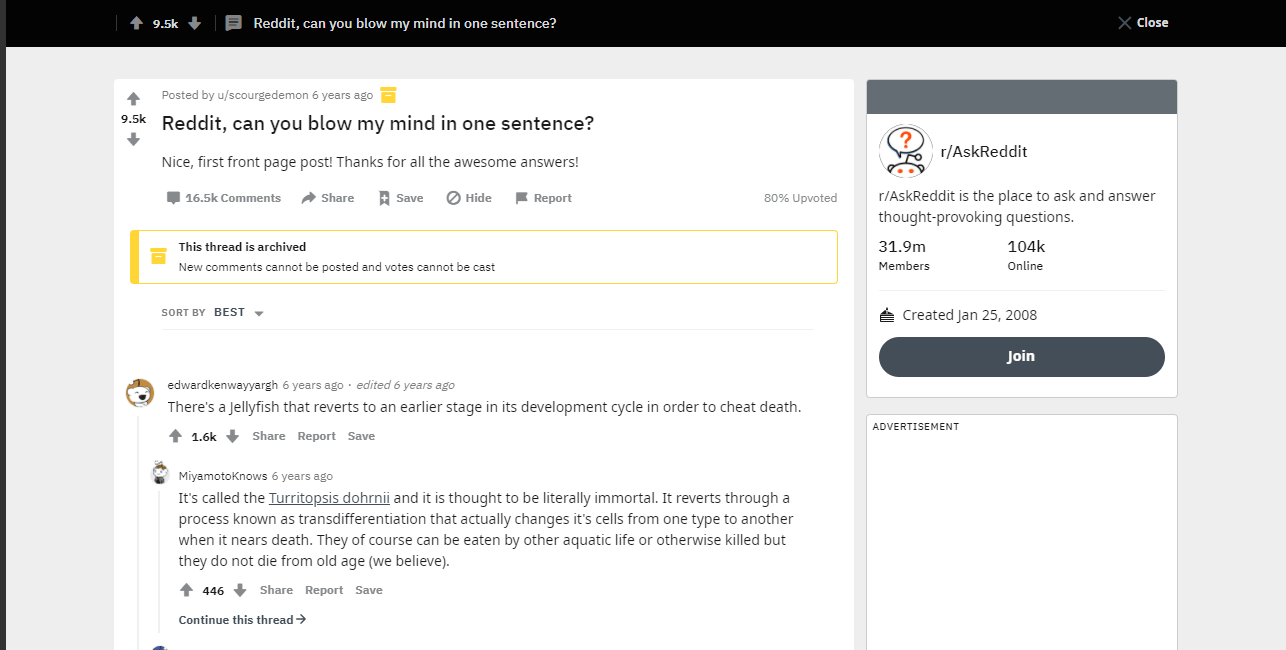 In any skill learning process, basics are most important! 
Hence, this subreddit as the name suggests teaches you any topic of your choice in the rawest and 5-year-old understanding.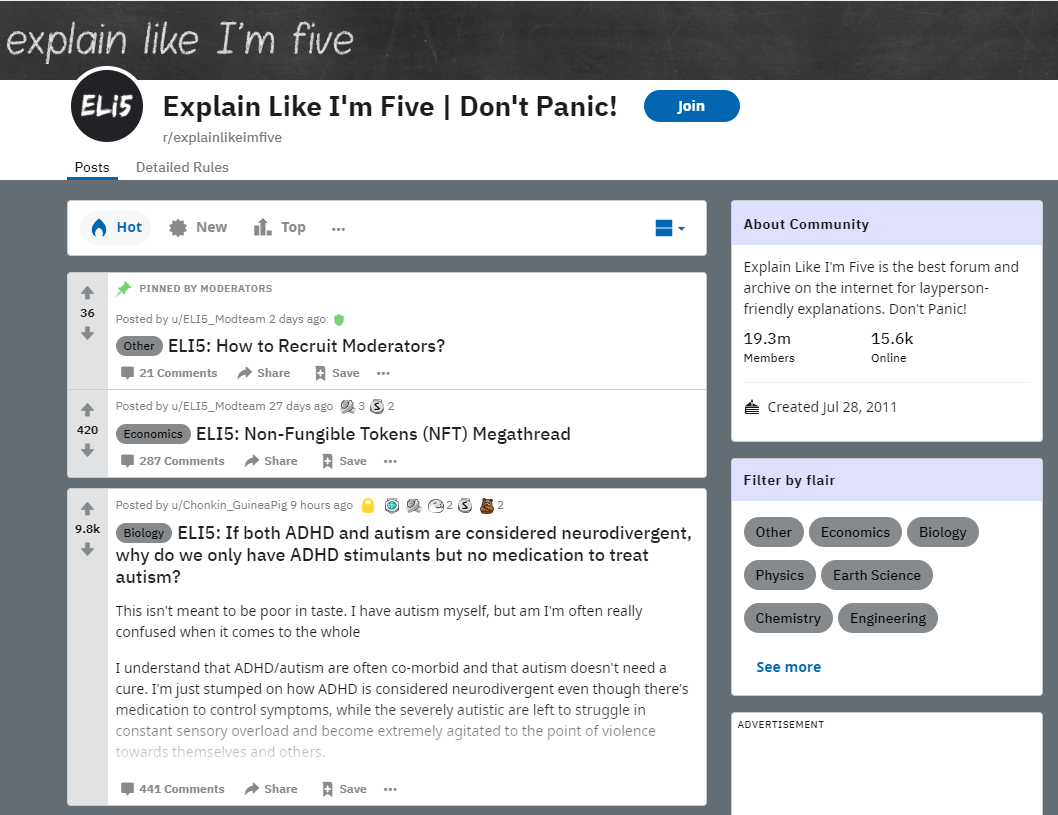 The sad cringe is home for awkward people. Here people come together sharing embarrassing experiences and bond via it!
In our opinion, it's a pretty cool place to make new friends if you're an introvert.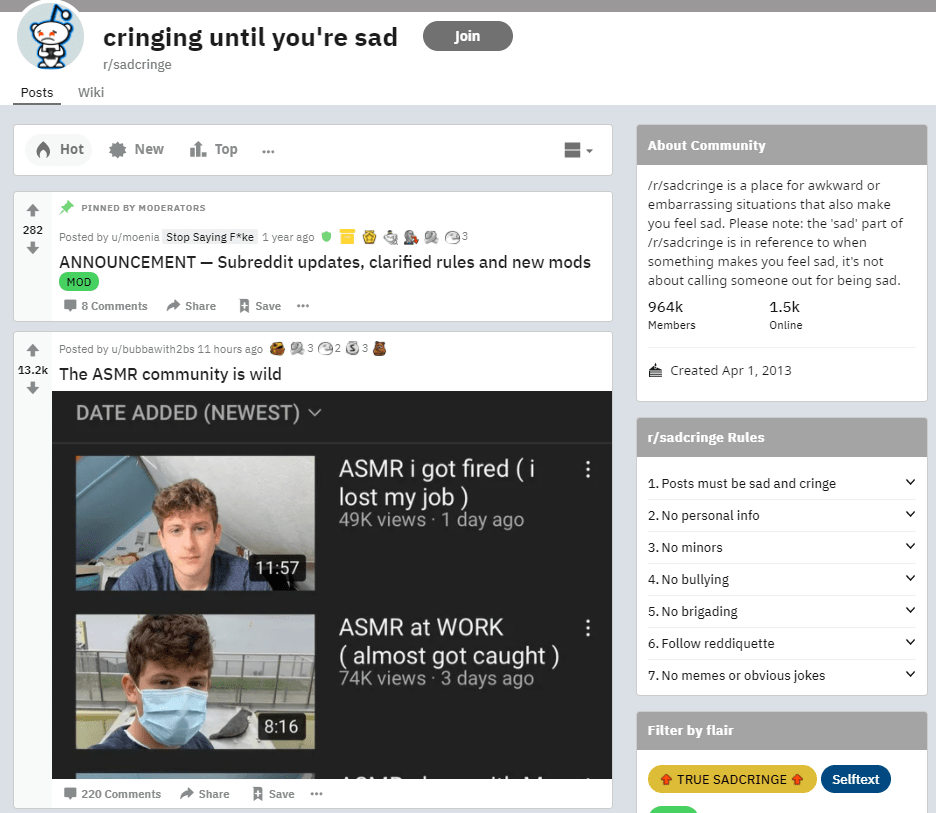 Frequently Asked Questions:
What are some of the most popular Subreddits?
Unresolved Mysteries and IAmA are some of the most popular subreddits.
What are the best Subreddits for Learning?
r/howto, r/IWanttoLearn, and r/educationalgifs are some of the best learning subreddits.
Is there any disturbing subreddit?
Unfortunately, yes. r/watchpeopledie and r/hurtinganimals are two of them disturbing categories.
You May Also Like:
The Final Verdict:
Reddit is one big Info Dump. From disturbing posts to hilarious memes – this site has everything! This article has provided a compilation of various subreddits of 2023 (that are best in their way). 
We hope you found our article informative. Having said that, do let us know what subreddit did you find the most interesting in the comment section below.