Videos like the 5-minute crafts have it easy to grab the viewer's attention. However, the videos are not literally for five solid minutes but something you can do within 5 minutes.
The same concept of creating visually engaging content is the new trend today.
TikTok grasped the same concept and induced it into a brand-new platform which eventually blew up to become a million-dollar digital media company in less than a few years of its launch. Impressive, right? Keep reading to find out some more surprising facts!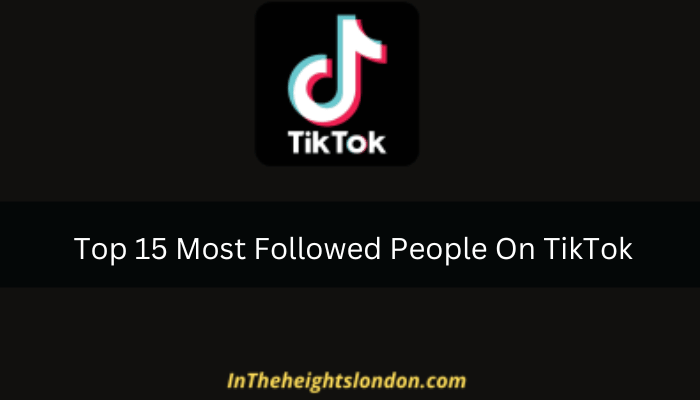 Nowadays, the number of likes, comments, and followers has taken over people's curiosity. Be it a celebrity, an artist, a musician, or even just an average user.
If you are wondering who tops the list of followers in TikTok, find it out below.
TikTok: What Makes This Platform Popular?
TikTok is the world's fastest-growing video sharing and networking platform with millions of active users worldwide. The application is free and open for everyone to download and use.
It is available in both the variants, Android and IOS. The Chinese-owned application does not restrict the users to post only a specific type of video and encourages users of all creative fields to break a leg.
It is said that comedy videos top the explore feed of the application, called the "for you" page, where the daily posts, videos, and memes are shared frequently.
One thing to remember about TikTok is that it enables only video format. Don't worry; users have various ideas in showcasing their talent through 10-sec videos.
 Top 15+ Most Followed People on TikTok (The Ultimate List)
It is evident that only actors and celebrities who have already excelled in cinema have a massive following on most social media sites to connect with fans,, but that is not the case.
As we mentioned earlier, TikTok pushes creatives and content creators of all fields irrespective of who they are and what they do in life. The platform is famous for its users of exceptional talent.
In that order, we did our research and found out that the below are the top-ranked creators.
Starting with:
Charli D'Amelio
Addison Rae
Bella Poarch
Zach King
Spencer Polanco Knight
TikTok (the application)
Loren Gray
Dixie D'Amellio
Will Smith
Michael Li
Jason Derulo
Riyaz Aly
Kimberly Loaiza
Brent Rivera
Burak Özdemir
Followed by Burak, James Charles takes the next place with a whooping of 36 million followers. Shocked? Already? Hold on. There are more details of the following count of other creators below.
Note: The number of followers could not be the same when you read our post. We try our best to update the number of followers time by time.
So let's dive in with the list.
1. Charli D'Amelio (113.6 million)
 Username – @charliedamelio
Charli D'Amellio has been dancing all her life, even before she became into the limelight of TikTok.
Her breakdances and on-beat moves with trending pop songs captured the viewers.
She fell in the spot of going viral through one of her famous dance covers and, ever since has not stopped growing. All her videos eventually blew up, ranking her straight up to the top.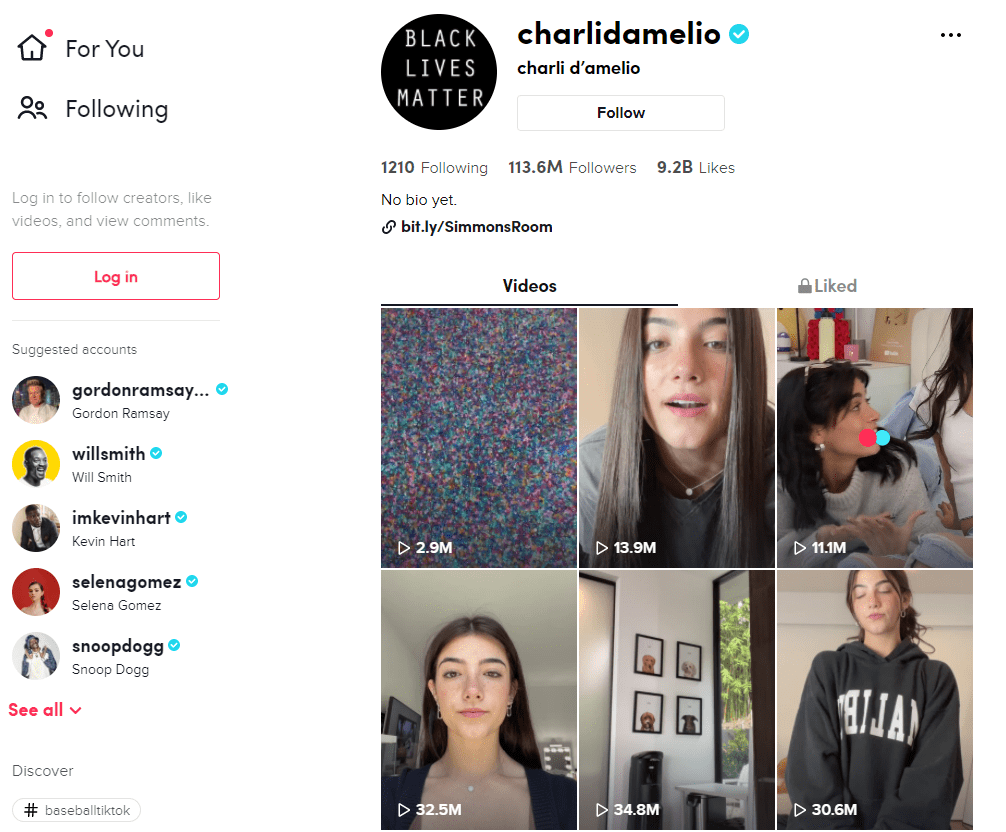 The thing which makes her videos stand out is that her moves are casual yet so powerful. She is also the reason behind the invention of most of the "TikTok dances" you see on the internet today.
2. Addison Rae (79.9 million)
Username – @addisonre
Addison Rae is a public figure who rose to fame, similar to how Charli D'Amelio did. Her TikToks are mostly dance videos, but she also does lip-sync dialogues with other creators.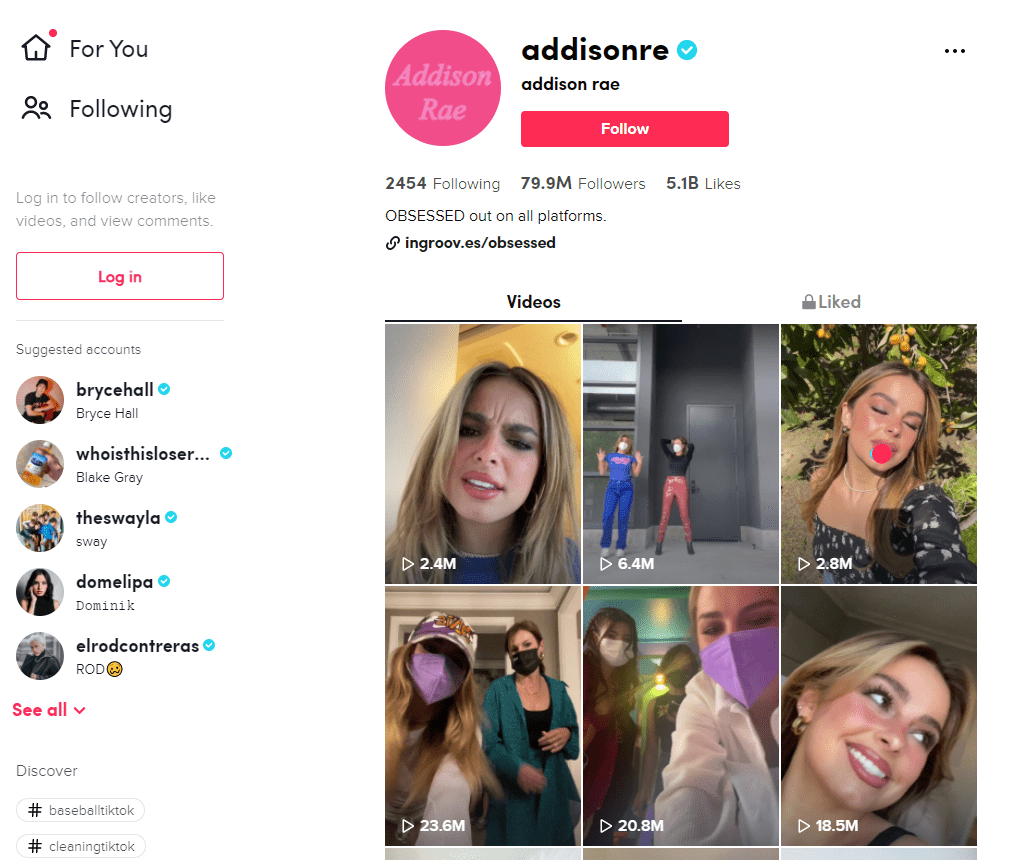 Known for her innocent facial expressions, Rae later moved to the city of dreams, Los Angelos, to pursue her content creation and acting dream.
People rumor that she will be the lead in an upcoming movie. Apart from that, she also owns a beauty line and is selling exclusive merchandise.
3. Bella Poarch (63.3 million)
Username – @bellapoarch
Bella Poarch is a TikTok creator who makes lip-sync videos.
Her content is primarily lip-syncing and viral dialogues surfing throughout the platform.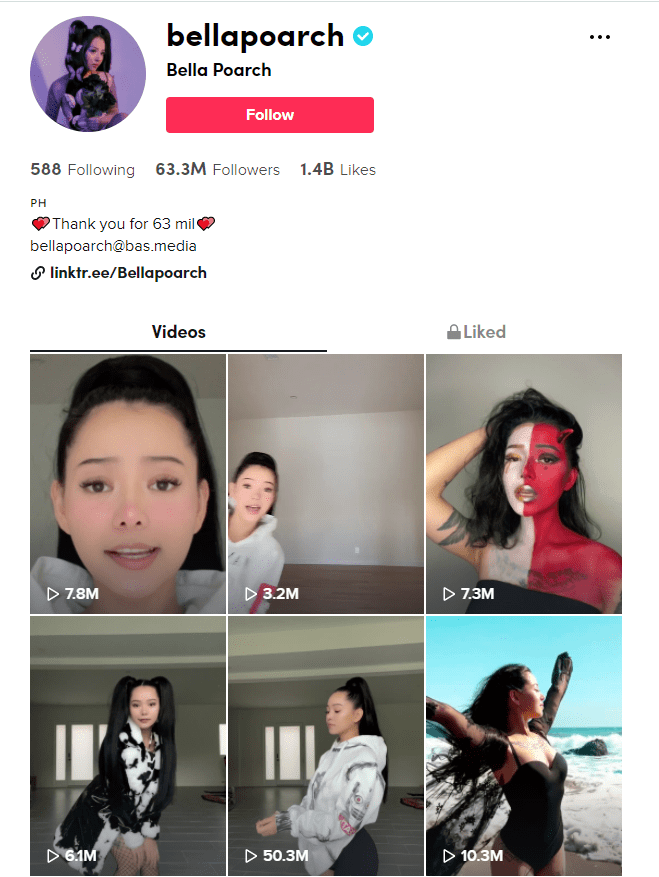 The American-Filipino creator has a unique expression that instantly caught the hearts of millions and continues to grow.
She gained fame through one of her viral videos, which go under the soundtrack "M to the B.." Many fans even tried to replicate her cute expression in that particular video.
4. Zach King (58.8 million)
Username – @zachking
Zach King is a magician but is not. Confused, right? That's how his videos are.
He plays with illusions in film making and has world-class editing skills. King is already a well-known star on Youtube, but looking at the growth of Tiktok, he decided to give it a try.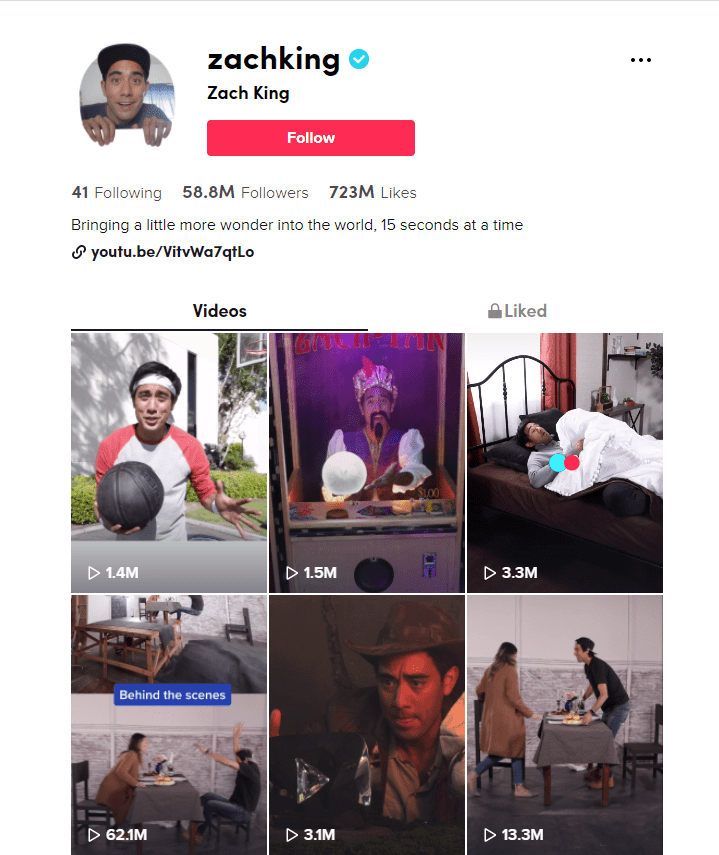 And voila, he blew up massively, topping the platform's most-followed creators list.
His loyal fans shower constant support regardless of the platforms he chooses.
5. Spencer X (52.6 million)
Username – @spencerx
Spencer Polanco Knight is a creator who makes beatboxing videos. He is also a Youtuber. Knight went viral for one of his mad beatboxing challenges called "one beatboxer, 14 genres".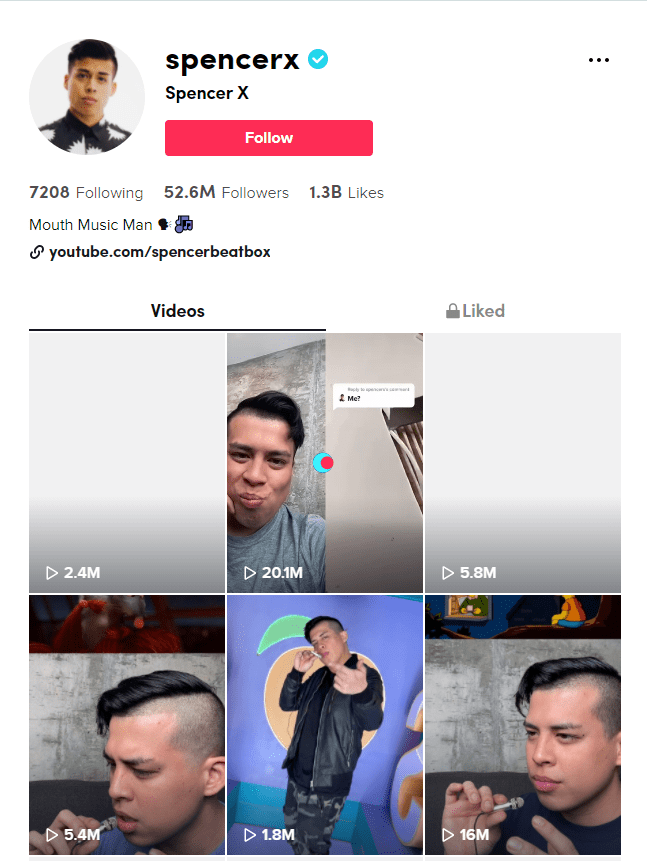 He eventually took his username id as his stage name later. He produces independent music where he composes and also beatboxes to his tunes.
After his success story, he collaborated with A-grade artists like Alicia Keys and other singers, gaining him followers.
6. TikTok [The Application] (52.9 million)
Username – @tiktok
Tiktok. Yes, you heard it right. It is the application in itself that stands sixth in the list.
It has got fans worldwide, so it is pretty obvious, but how can it make it to the top?
It's the strategy they have used in marketing. Tiktok has made sure to drop insights, helpful tips, and tricks for users. The official account also features growing creators on its feed.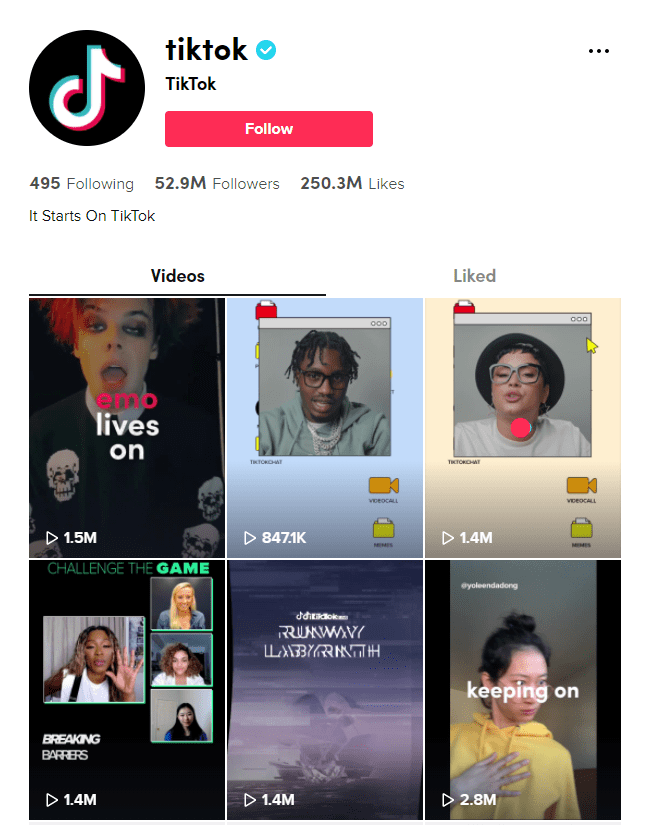 So, it is a win-win situation for both the creator and the platform. It's ironic but true.
7. Loren Gray (52 million)
Username – @lorengray
Loren Gray is one of the viral creators who has been lying at the top ever since the beginning of TikTok and decided to stay there. The talent speaks here.
Her constant singing videos encouraged fans to keep supporting the singer.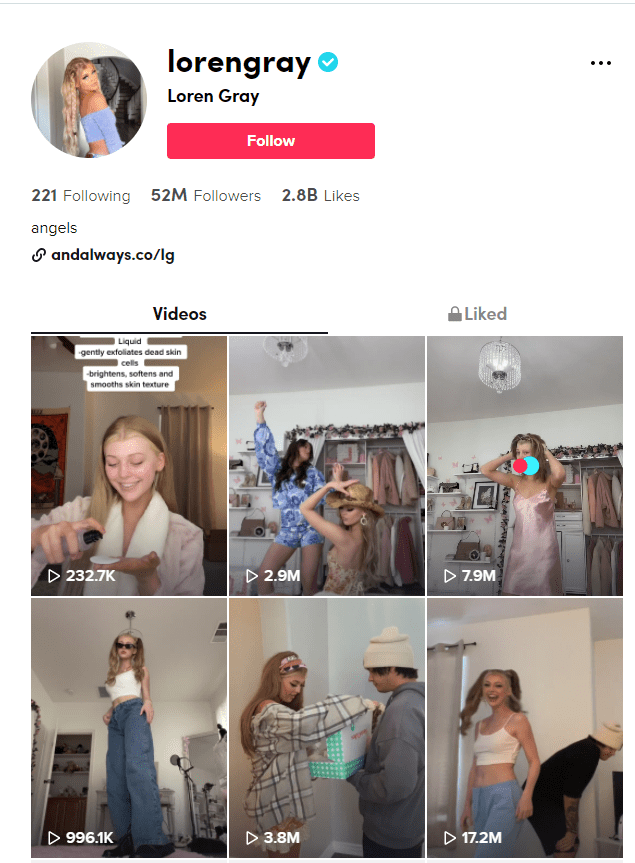 One of her videos went viral, which gathered a massive following and a record label.
She even stared in Taylor Swift's music album and later signed with Virgin Records to pursue her musical journey into the industry.
8. Dixie D'Amelio (51.2 million)
Username – @dixiedamelio
Along with Charlie D'Amelio, fans showed equal love and support to Dixie, her elder sister. This led the D'Amelio sisters to the top of the platform altogether.
Her TikToks are mostly dancing, singing, and sometimes acting videos. In late 2020, she decided to create a new youtube channel and start making web series.
She also started a podcast with her sister, Charlie D'Amelio.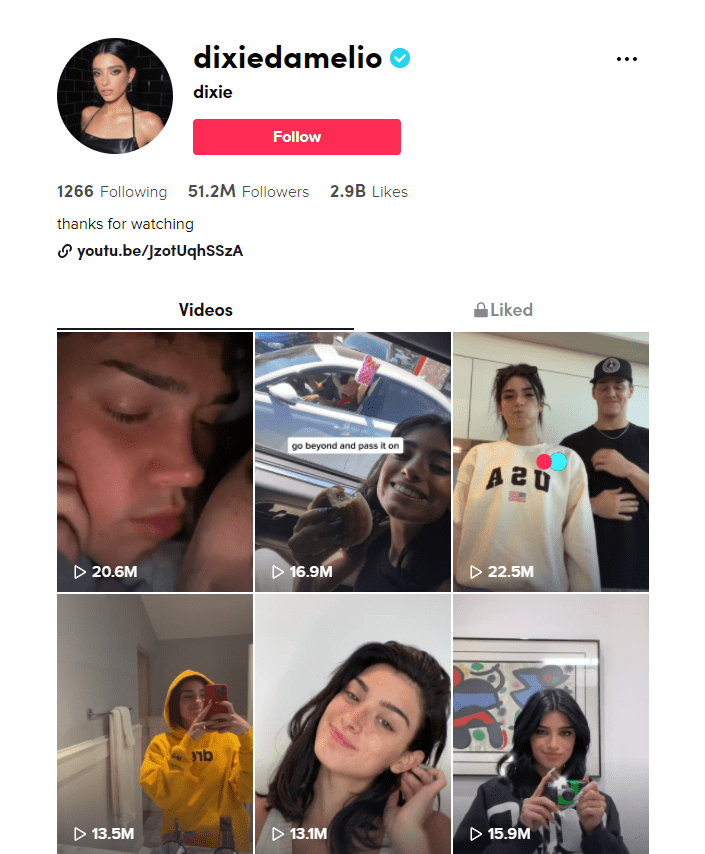 9. Will Smith (52.4 million)
Username – @willsmith
An actor, producer, rapper, and now a TikToker, Will Smith is undoubtedly enjoying his career. Ever since the pandemic began, celebrities have taken over social media platforms.
One of them was the charming Will Smith, who posts funny and prank videos.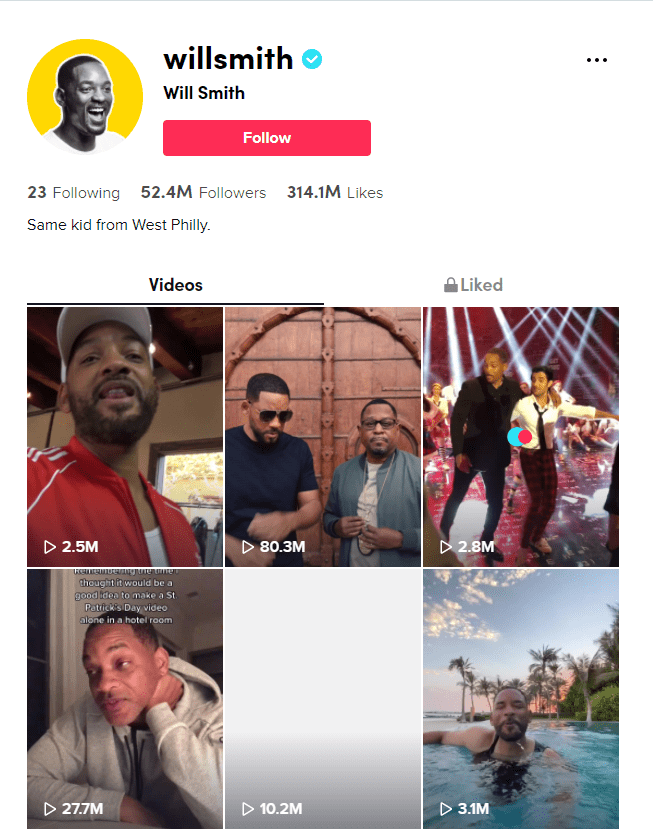 He also collaborates with other famous creators and brings out quality content for us.
His following is increasing every day for his sense of humor in the platform.
10. Michael Le (47.3 million)
Username – @justmaiko
Michael Le is a dancer/choreographer. Le uses TikTok to his most significant advantage, from teaching dance to dropping tutorials to collaborating with other dancers.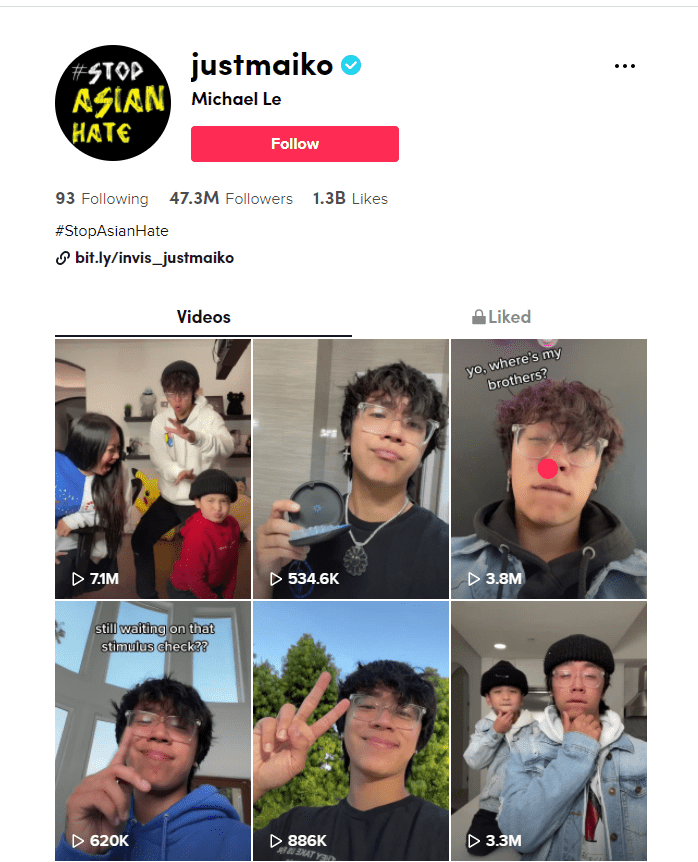 He is well-known for his funky and crazy dance moves, which also bagged him a chance to choreograph one of the top artists in the music industry, Chris Brown.
Later, his fame led to many more choreography opportunities for famous artists, namely Crissa Jackson, Jason Derulo, and Javier Romero.
11. Jason Derulo (44.9 million)
Username – @jasonderulo
Jason Derulo is a singer and a songwriter famous for hit songs like Swalla, It Girl, Wiggle, and Talk Dirty to Me over the years. Known for his dance performances in his music videos, he posted his dance video for the song "Swalla," which went insanely viral during the pandemic.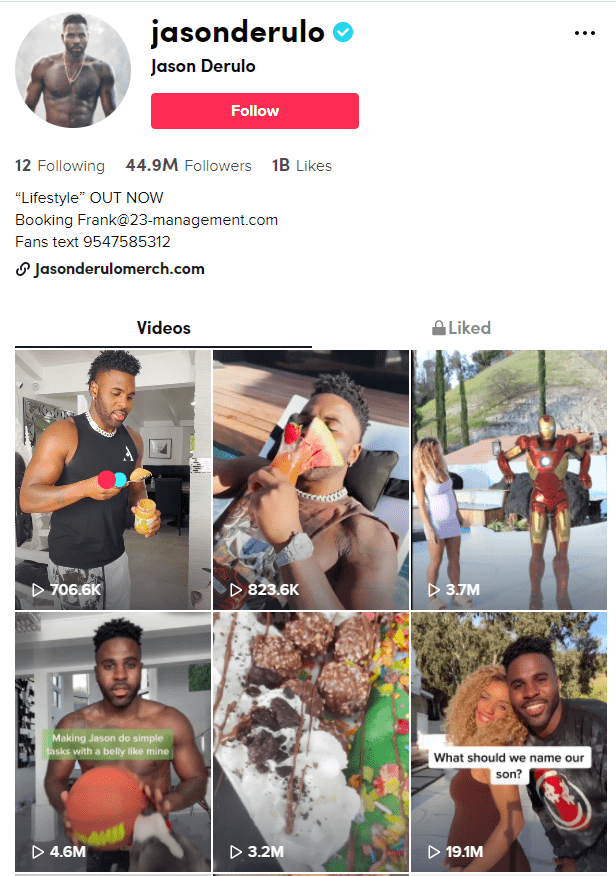 Crazy fan following approached him, and he got no other option than to stay loyal to his fans and post more of such videos. Eventually, he started hopping on viral trends.
Now, he is one of the top followed-creator in TikTok. Thanks to the "Swalla" music video.
12. Riyaz Aly (44.1 million)
Username – @riyaz.14
Riyaz Aly is a TikToker and also an influencer based in India. He makes lip-sync videos on popular Hindi regional songs and English dialogues.
Aly has a fan-following from his motherland worldwide, which gained him a substantial following count ranking to the top list of creators.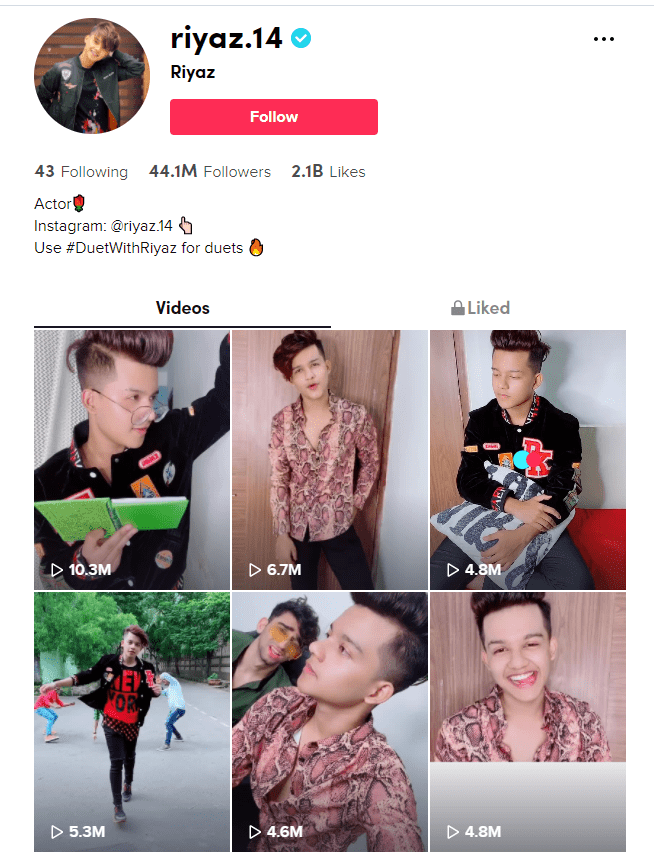 Initially, he faced trouble posting on TikTok because of the ban in India, but now he has shifted his content creation career to Instagram and has not stopped making videos.
The determination to succeed keeps him going, and even today, some of his videos go viral.
13. Kimberly Loaiza (41 million)
Username – @kimberly.loaiza
Kimberly Loaiza is a Mexican creator, Youtuber, and also a singer.
One of her singing videos on TikTok blew up, and then the rest is history. Her following fast grew in millions and did not stop growing. Her content on Youtube is vlogs, challenges, and tag videos.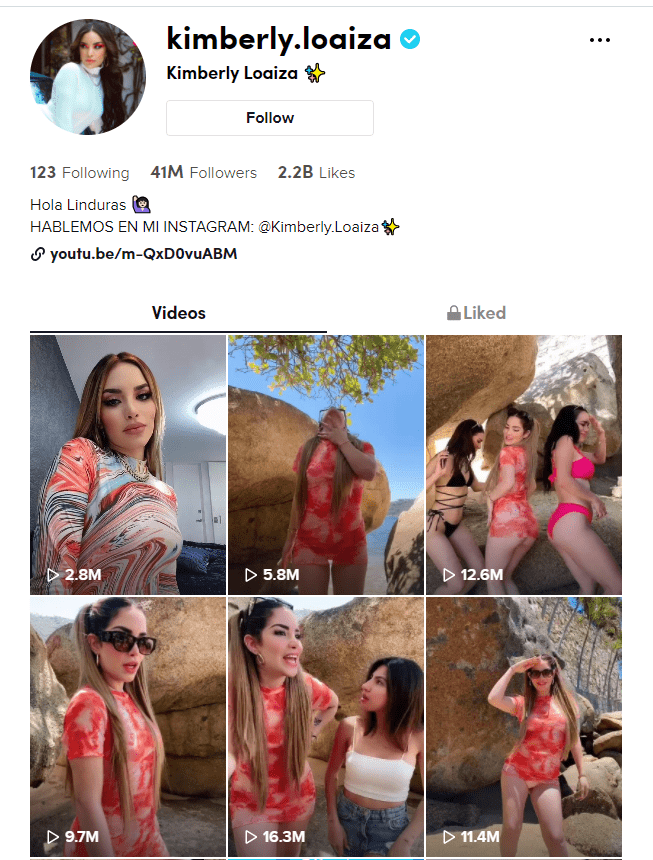 She also made a record of hitting 100k subscribers in a single week of her debut video in 2016.
14. Brent Rivera (37.8 million)
Username – @brentrivera
Brent Rivera is an actor, Youtuber, and also an influencer. He has been making videos on 
Youtube for years and only recently joined TikTok but has been growing ever since.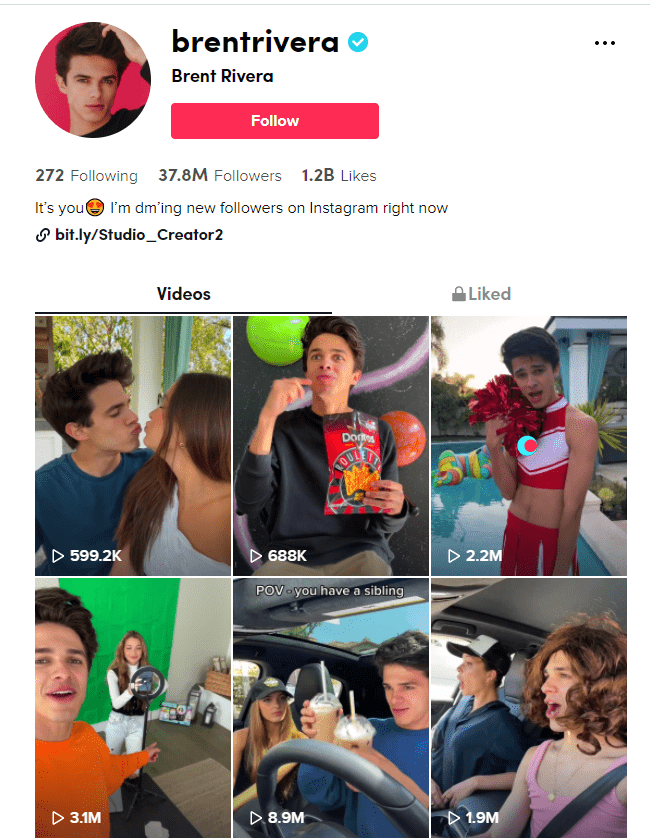 His content is based on comedy, pranks, tags, and funny challenges.
He has an excellent personality for which people love him.
15. Burak Özdemir (337.3K )
Username – @cznburak
Would you believe it if we said someone rose to fame simply with a smile? Burak did.
Though he randomly posted cooking videos and behind the scenes of his process, his contagious smile captured the viewers. Fans across the world love him.
He continues to stay consistent in cooking, and of course, smiling too.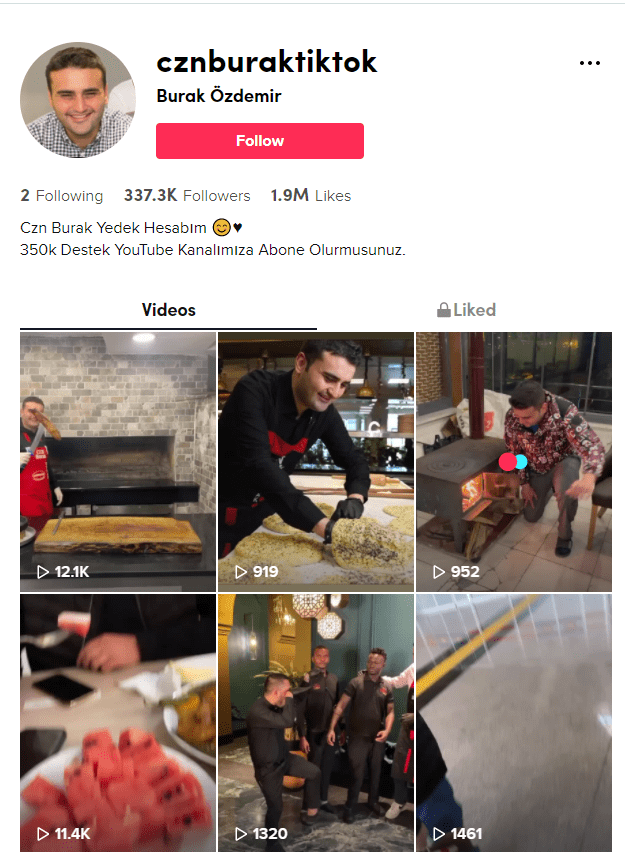 There you go. Those were the top 15 creators in TikTok who has a massive fan following regardless of their cultural background. They got chefs, musicians, artists, and many other creatives who make exceptionally well on the platform.
FAQs
Who is the top creator in TikTok?
Charli D'Amelio ranks first in the list of top creators.
Can we earn through TikTok?
Yes, you can earn through live chats, badges, and super chats in TikTok.
Why can't we use TikTok in India?
Unfortunately, the Indian Government has banned TikTok alongside 40+ other Chinese apps because of privacy reasons.
You May Also Like:
Conclusion:
TikTok is not just for dancing or lip-syncing but for anyone who prefers to showcase their talent.
The talent could be anything. Like, anything. If you are ready to show your authentic self to the world and be honest about it, people are ready to welcome you to the platform.
This ranking and following do not mean the other creators are not succeeding. This is just data of the top creators based on followers, but some small creators also earn so well.
We hope this article was helpful. Let us know who is your favorite in the comment section below.