Rabb.it (also known as Rabbit) was a popular video streaming platform, where you could watch movies and series with your friends and family in real-time. But due to its lack of funding issues, they had to shut it down permanently. 
Millions of Rabbit's users were covered with disappointment after they heard the unfortunate news. If you're also one of them, then you're on the right page.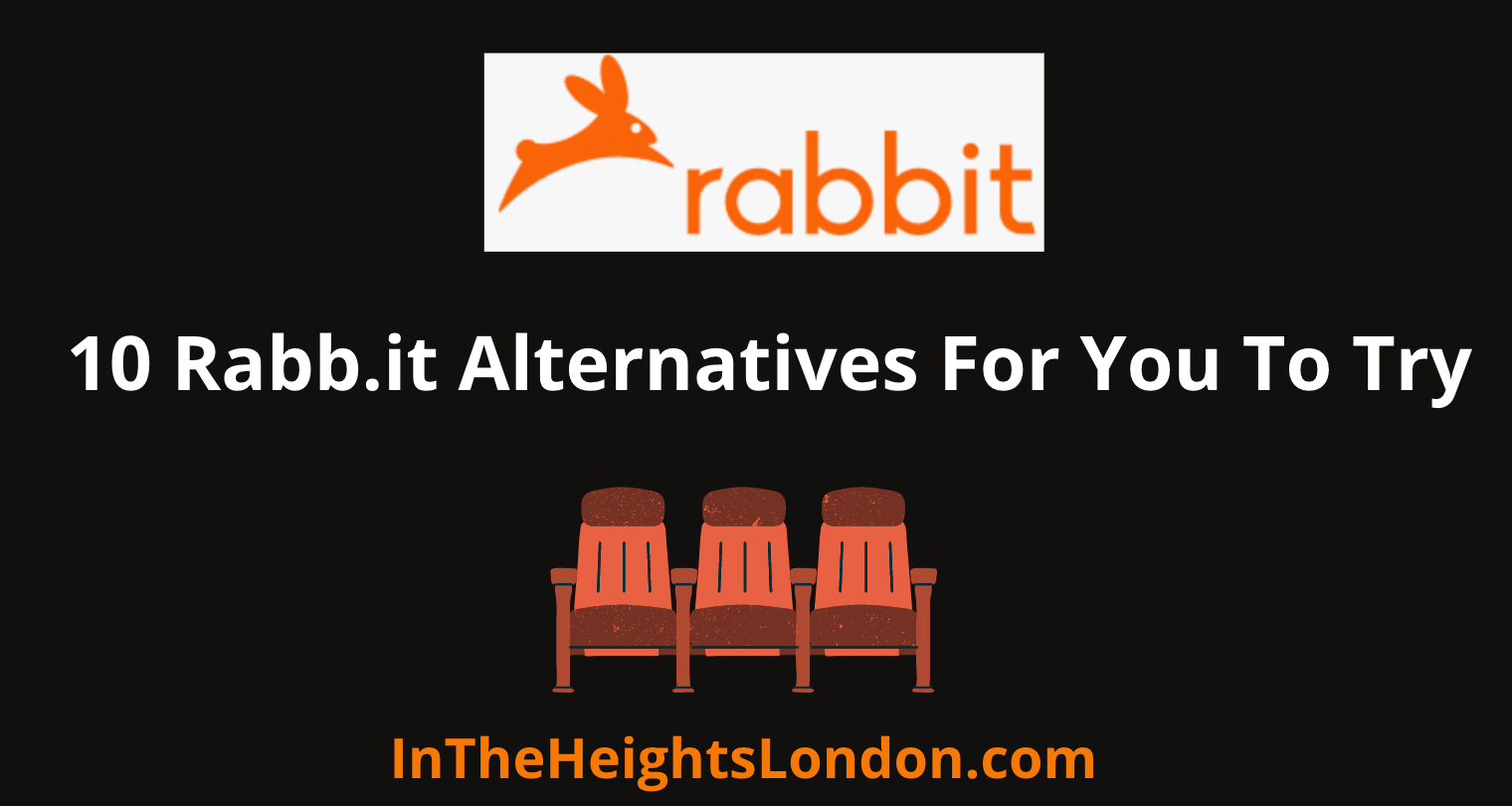 There is a good deal of video streaming platforms similar to Rabbit. But, which ones are the best and convenient for use? 
In this article, we're going to acquaint you with the best Rabbit alternatives there are on the market. 
Let's get moving. 
List of Top 10 Rabb.it Alternatives (Updated 2023)
So here is the list of a few Rabb.it alternatives for you to try:
Like to watch videos, listen to music and shop with your friends? Watch2Gether will make it happen for you. 
Watch2Gether is an amazing Rabbit alternative that allows you to watch content with your friends and family in sync. Just create a room and add people and that's it.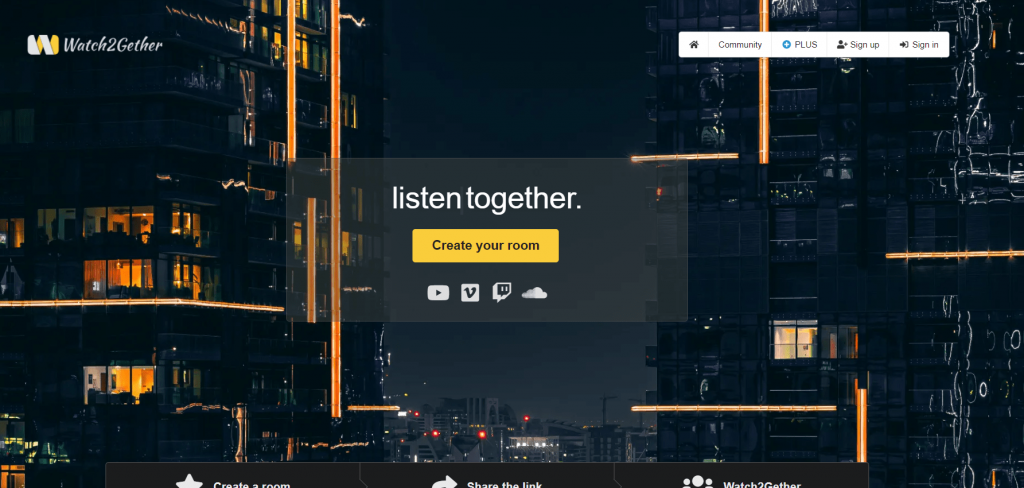 You also get chatting options with the people you've added. Now you can watch videos and text each other at the same time. One bonus point: The chat system supports GIFs too! 
The supported sites from where you can watch videos and listen to music are YouTube, Dailymotion, Vimeo, and SoundCloud. Apps like Netflix, Amazon Video, and Hulu are not compatible with Watch2Gether, although you can use the W2gSync feature to watch content from these apps. 
Netflix Party is almost the same as Rabbit. But it only allows you to stream content from Netflix. Watching videos from any other application is not possible.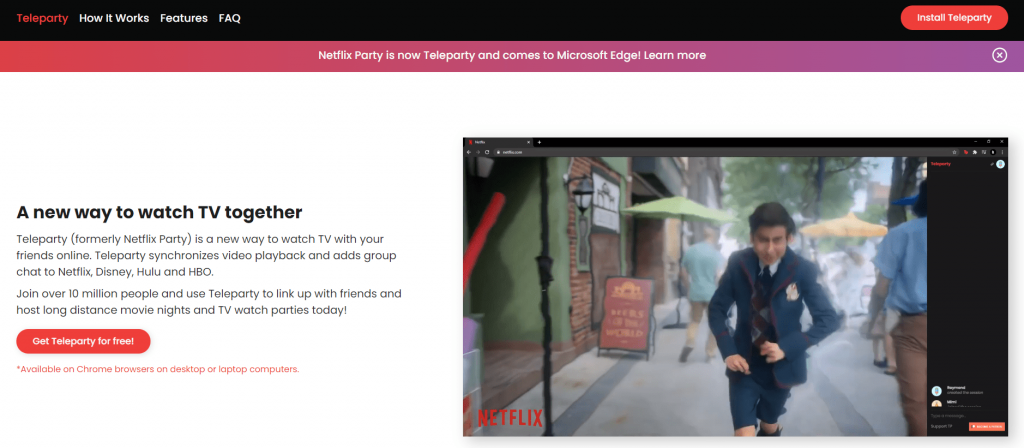 If you've got Netflix and want to watch content from Netflix only, this is the best option for you. It allows you to watch movies and other content with your friends in sync. 
There's also the feature of texting your friends while watching. The chat system features emojis and gifs as well to make your conversations with your friends more fun! 
With Kosmi, you can watch videos, play games or simply chat with your friends or strangers from all over the world. Chill out with your friends in the comfort of your home.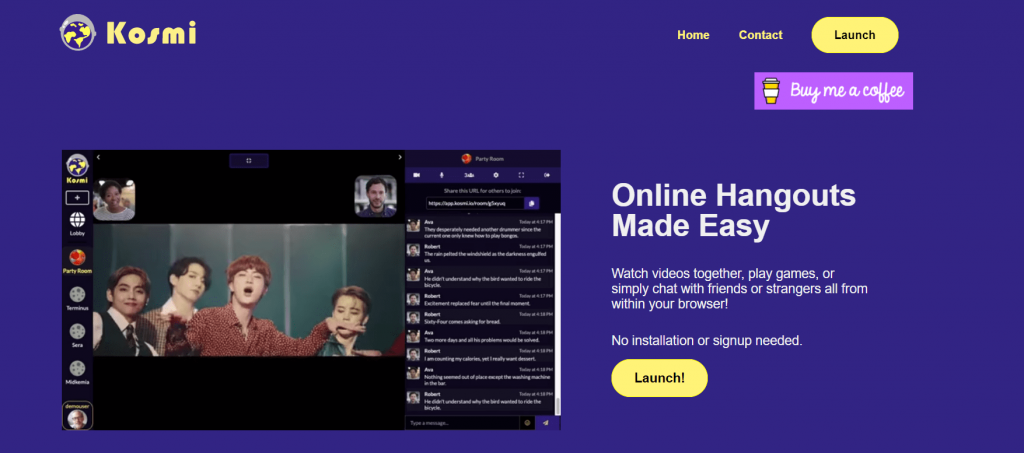 In Kosmi, you can create a room without even signing up or installing the app. Create a room, add your friends and voila! You've got yourself a chill session with your friends. 
With features like group chat, webcam, and microphone connections, Kosmi is a pretty good alternative to Rabbit. There's a screen share feature that you can use for watching Netflix, Amazon Video, etc., or watch videos from YouTube. 
A few games are also available for the users to play. 
This one is for those who don't own a laptop/PC and watch videos on their smartphones. Rave is one of the best alternatives to Rabbit for smartphone users.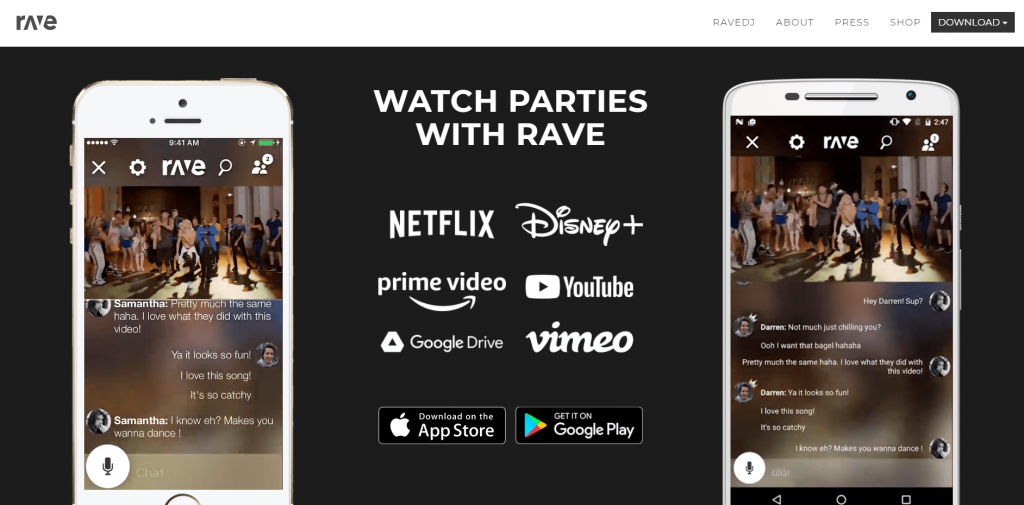 With Rave, you can watch videos together with your friends and family and interact with them at the same time. It allows you to watch videos in sync, chat with people and send voice notes, though the feature of webcam is not available. 
On Rave, you can watch content from Google Drive, Vimeo, YouTube, Reddit, Netflix and a few others. Rave works on both iOS and Android smartphones. 
Another fantastic alternative to Rabbit, SimulChat allows you to watch movies and play games as well with your friends. Create a room, add your people and hang out with your friends virtually sitting at home.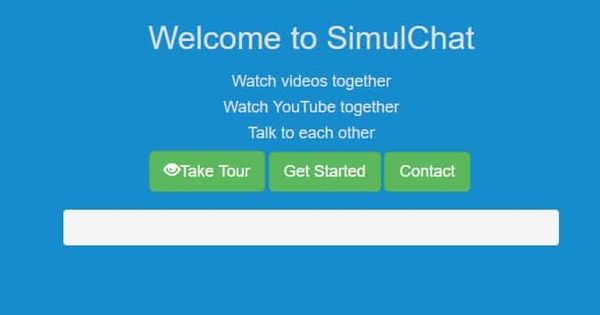 The private rooms on SimulChat allow you to chat and video call your friends and also lets you share files. 
Although this platform does not support websites like Netflix and YouTube, it does have an option for screen sharing. Only one person needs to play the video and share the screen with others so that everybody can watch. 
SimulChat is free to use which just requires you to sign up using your email before you can start using their services. 
Airtime is another alternative for smartphone users. With Airtime, you can watch videos, chat and do video calls, listen to music and play games with up to 10 people at a time.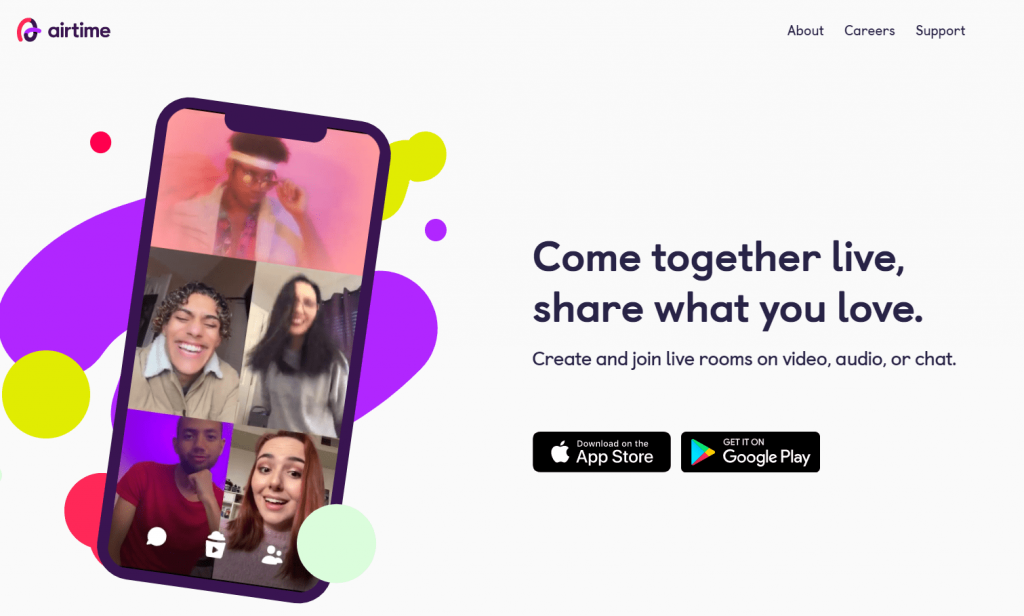 The Airtime chat feature supports reactions and GIFs as well to make conversations more enjoyable. 
In this app, you can create two types of rooms- Secret Room which only allows people that you invite and Party Room which is open to all members of the room. 
Syncplay is a tad bit different app than the others on our list, as it allows you to stream downloadable content. You can play downloaded content using services like VLC Media Player.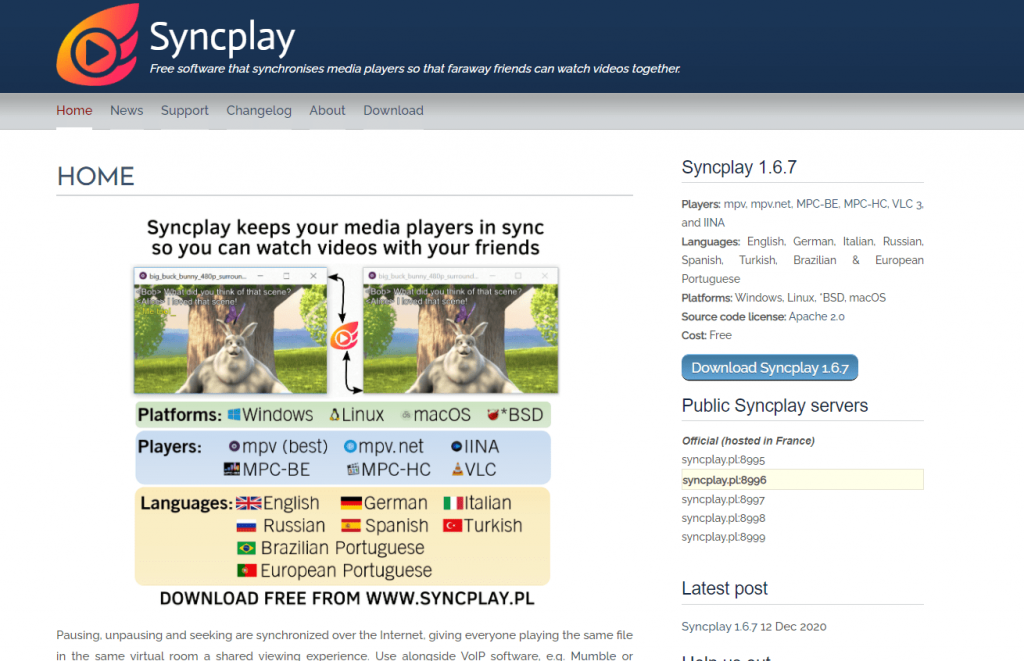 You can create a private room in Syncplay and play offline videos. To host a streaming party, you can share your private room with your friends, and then everyone can enjoy watching together. 
One setback of this service, however, is that it does not support any interactive features. You cannot chat with your friends while watching videos together. 
MyCircle.tv is an excellent and unique replacement for Rabbit. It allows you to watch videos in sync with your friends, listen to music together and upload files as well.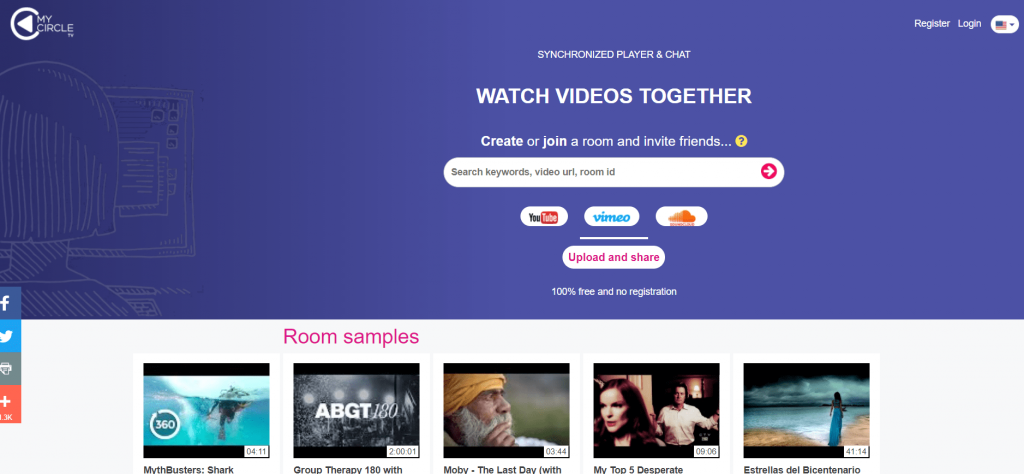 Videos from YouTube, Dailymotion, and Vimeo can be streamed on this platform. 
For the interactivity, you get chatting features that support emojis. However, there is no audio support or webcam. 
TogetherTube has slightly unique features than the others in our list. On TogetherTube, democracy works. Let us explain it to you further.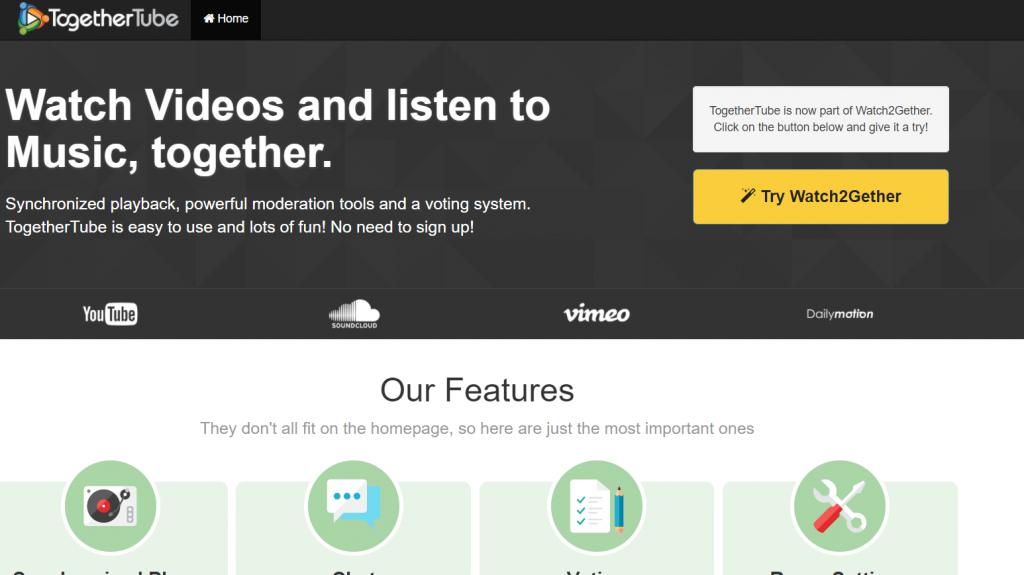 There is a feature on TogetherTube which allows every room to conduct voting (which is automatically enabled). All the users can add whatever videos they like and then the voting takes place. The video with the most votes gets played. 
All the users can watch the videos in perfect sync and chat with each other at the same time. Additional features of this platform are that you can change the rooms' names and restrict people from voting. 
Metastream is another great alternative to Rabbit. All major streaming services like Netflix, Amazon Video, YouTube, etc. are supported by Metastream.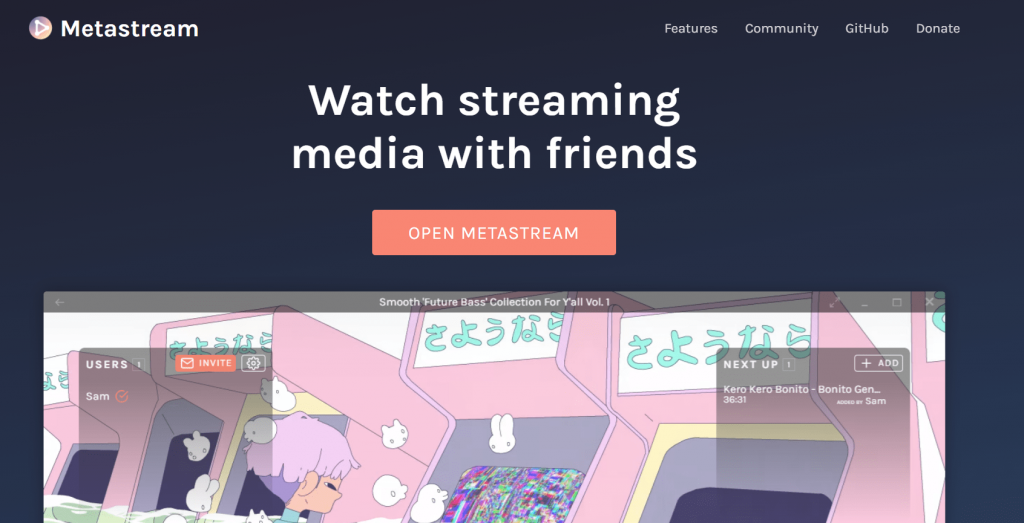 You can watch videos with your friends in complete sync and chat with them at the same time. 
However, it does not support audio messages or webcams. 
Frequently Asked Questions
Why did Rabb.it shut down?
Rabb.it shut down due to financial issues in 2019.
Is Kast the same as Rabb.it?
Although Kast had claimed that it would bring all of Rabbit's features into it, they haven't been able to do it yet. 
What to use instead of Rabb.it?
You can use a variety of apps like Rave, Watch2Gether, and other apps that work excellently. We've listed them in our article. 
You May Also Like:
Wrapping Up 
So that was our list of 10 best alternatives to Rabbit. Whether you're living miles away from your family or are in a long-distance relationship, you can enjoy the feeling of going to movies together or playing games together using these apps from every corner of the world.
All the mentioned apps have great features- perfect sync playback, communication features, etc. No matter whichever one you choose to use, we're sure you will be satisfied. 
Do let us know in the comment section if you liked our article and the apps that you liked the best.