IN THE HEIGHTS - The Tony-Award Winning Best Musical - King's Cross Theatre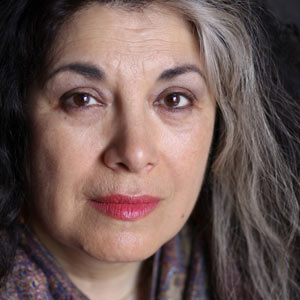 Eve Polycarpou Abuela
Theatre: Jacques Brel is Alive and Well and Living in Paris (Charing Cross Theatre), Abeula Claudia in In The Heights (Southwark Playhouse, Offie Best Actress Award nomination), Mother Courage in Mother Courage and her Children (Library Theatre Company at the Lowry Theatre); Agave in The Bacchae (Royal Exchange Theatre, Manchester); Nehrjas in Palace of the End (M.E.N best actress award nomination, Amnesty International Award for Freedom of Expression, Royal Exchange Theatre, Manchester, Galway Festival & Traverse Theatre, Edinburgh); Lisa's Sex Strike (Northern Broadsides); Hecuba (Donmar Warehouse); Jenny Diver in The Threepenny Opera, Tales from Hollywood, Jean Seberg, American Clock, Brecht/Eisler Sung and Unsung, Jacques Brel is Alive and Well (Royal National Theatre); Jungle In The City (Drill Hall); Godspell, Once A Catholic, Local Affairs (Haymarket Theatre, Leicester); Happy End, Dracula (Bubble Theatre).
Television: Whistleblower, The Bill, Jonathan Creek, The Brief, Inspector Morse, Kiss Me Kate, Birds of a Feather, Forever Green, The Fourth Arm and Squadron.
Film: Red Eagle, Holcroft Covenant.
Radio: Aysha's Tale, Beautiful, The Nets, Maro and Eleni, Stetsina
Other theatre and concert work:(Time Out award winning) Donna & Kebab Live at the Hackney Empire; Martha and Eve with Martha D. Lewis at Pizza Express Jazz Club Theatre, The Jazz Café, Ronnie Scott's, Purcell Rooms and various other National and international venues, Also numerous performances with Stephen D Fletcher throughout the UK. Currently recording her album…."For The Record".
Martha and Eve are Donna & Kbb, Stay, Martha and Eve Absolutely Live, Donna & Kebab Live at the Hackney Empire.
« Back to Cast & Creatives